Blackjack Tools
Our Recommended Casinos
Relevant Articles > blackjack
Blackjack Sessions Tracking Sheet
Track your blackjack sessions and get detailed statistical analysis on your performance, winning sessions, time spent, earnings and more .Download FREE the Blackjack Excel data sheet, or send your request on the contact page and write: 'I want the Blackjack Sessions Tracking Sheet!' in the subject line.
Benefits of using Blackjack Sessions Tracking:
The blackjack sessions tracking sheet is free!
Track your progress for any blackjack game in any online casino
Understand which blackjack session game is your best / worst.
Easy to use and understand.
Bankroll management.
Statistical analysis in Microsoft Excel format, blackjack statistics and data.
Dynamic blackjack graph and chart: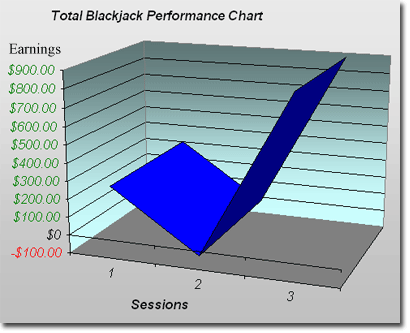 Blackjack Card Counting Software
When playing online, use our Blackjack Real Time Analyzer to make the perfect card count. BJ2021 will advise you on the optimal play for any given cards, show you which cards are still in the shoe, and give you the best betting strategy to increase your profit margins.
Benefits of using Blackjack 2021 Real Time Analyzer:
Learn to play like a pro
Learn basic strategy
Learn how to count cards
Blackjack Analyzer 2021 software preview: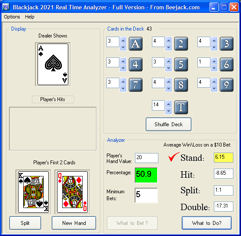 Read more on Blackjack Analyzer 2021
Blackjack Pro 2021 Software
Blackjack Pro 2021 is a versatile blackjack game and tutor where you can adjust the rules to fit almost any existing blackjack variation. Choose Las Vegas Strip/Downtown rules, European rules, dealer hits or stands on soft 17, deck penetration, number of decks (1, 2, 4, 6, 8), and more. There is also a unique feature of managing the deck composition - change the order of the cards in the shoe, save and load custom decks, and practice blackjack with various deck patterns.
With Blackjack Pro 2021 you will:
Play blackjack on your computer without having to connect to the internet
Practice your blackjack game and maintain a record of your money balance
Save and load custom decks and practice various deck compositions and blackjack rules
Blackjack Pro 2021 software preview: