Blackjack 2021 Statistical Real-Time Blackjack Analyzer
Our Recommended Casinos
Relevant Articles > blackjack
You are the best Blackjack player in the world when you use Blackjack 2021 since you always make the best possible play! Blackjack 2021 tells you whether your next hand is likely to win according to the cards left in the deck, it counts the cards for you!
Blackjack Analyzer
Blackjack 2021 Real-Time Analyzer from Beejack.com is a versatile blackjack tool that helps you to become a better blackjack player. Blackjack 2021 tells you the optimal bet amount before you receive the cards and advises you on the best possible move once cards are dealt.
Regardless of the number of cards in your hand, Blackjack 2021 will recommend the best move whether it is Hit, Stand, Double, Split, or Surrender. Blackjack 2021 calculates the optimal statistic success expectancy based on the remaining cards in the deck(s) and comes up with the best bet that should be placed, and the action the player needs to take.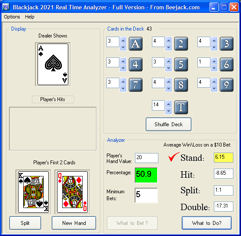 Blackjack 2021 doesn't use stored blackjack charts, tables or black jack counting systems; it calculates in real-time the best possible play and guarantees that in the long run you as a blackjack player will maximize your profits and minimize your losses. Novice blackjack players should use Blackjack 2021 to learn blackjack basics, and advanced blackjack players can test various card combinations and unique situations. Card counters can test blackjack card counting systems and create charts for custom deck compositions. In the 'Set Table Rules' screen you can modify the rules according to almost any blackjack table rules in the world - number of decks, dealer stands or hits soft 17, rules for surrender, split, double down, European rules (the dealer gets his hole card at the end of the round), Las Vegas rules or Atlantic City rules and more are all fully customizable. Use Blackjack 2021 while playing in online casinos and practice with it before going to play in a real casino or anywhere else. Blackjack is a game of luck but much skill is involved and you can gain an advantage if you play your cards right.