European Poker Tour (EPT) - Season 4
Get $600 Bonus Here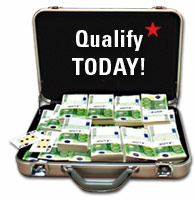 If you ever thought the 2006 UIGEA passed by American lawmakers defeated the game of poker on a global level, I suggest you think again. There's nothing better to illustrate the rising popularity the game enjoys than the European Poker Tour's success story. Last season (season III) saw the EPT Grand Final winner take home $2.6 million making the European Poker Tour the richest poker event held outside the United States.
Having reached its 4th season, the EPT is looking to set new standards, yet again. If season 3 saw about 3,500 players enter the different EPT events, 2007 is set to beat that record. There will be more events than ever before, in Dublin, London, Baden, the Bahamas, Copenhagen and Warsaw, which will probably cause the attendance record to topple, too.
The Tour will start August the 28th, 2007, in Barcelona, so there's still plenty of time for you to register for one of the satellites PokerStars runs on a daily basis, and win a seat in one of the EPT events.
For as little as $8 (and a truckload of luck) you can win a fabulous EPT package which not only includes a seat at the event, but also luxury hotel accommodation and $1,000 to spend.
Direct buy-ins for the different events will run pretty high, in the $7,500 range, if you do make it to one of the events though, you can pretty much count on rubbing elbows with some huge international poker names.