Ocean Odds Slots Review
Get €140 Bonus Here

888 Casino Slots - Relevant Articles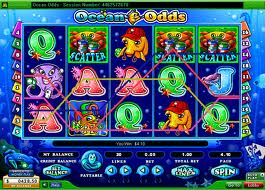 The mere mention of Ocean Odds slots might have you rolling your eyes and thinking, "Oh no, not another ocean-themed slots game." However, this exclusive slots product by 888 Casino offers a more original, funky ocean theme than other games of this nature. We'll cover the reasons why, and give our opinion on this game below.
Reels, Paylines and Betting Options
This game features 5 reels and 20 paylines - the latter of which gives players plenty of betting flexibility. Speaking of betting, coin sizes offer a pretty wide range at $0.05-$10.00. You can only bet one coin per line, which means the max bet per spin is $200. In regards to changing either payline or bet amounts, even novice players will have no trouble with this because the overall layout is well-organized.
Regular Symbols
One thing that we really like about Ocean Odds slots is the fun and entertaining symbols offered here. Expanding on this thought, you'll see a cigar-smoking fish, a sunglasses-wearing fish, an octopus with cards, a fish with casino chips, and a shark with gold coins. Describing these characters doesn't really do any justice because you have to see the graphics to realize how colorful they are.
Wild, Scatter, Free Spins, and Bonus Symbols
A unique aspect to Ocean Odds is that it features a specific free spins symbol. The lipstick-wearing fish is the free spins symbol, and when it appears on reel 1 and 5 simultaneously, you'll receive 10 free spins. A crab is the scatter symbol, and it will multiply wins by the following amounts: 3x (3 symbols), 30x (4 symbols), 300x (5 symbols). The joker fish is the wild symbol, and this substitutes for everything except the scatter, bonus and free spins symbols. Finally, the oyster with quad aces is the bonus symbol, and landing this symbol on the reels 3 or more times triggers the bonus game.
Bonus Game and Jackpot
The bonus game is really fun here because you get to play poker with an octopus. Your goal in this bonus game is to get poker hands like a pair, two pair, 3-of-a-kind or a 4-of-a-kind; the better your hand is, the higher your payout will be at the end of the bonus game. Moving to the jackpot, this 50,000-coin prize is unlocked if you get the shark with gold coins five times in a payline. If you made the max $10 coin bet, your jackpot would be $500,000.
Our Verdict on Ocean Odds
While there are dozens of water-themed slots games out there, we really think that Ocean odds stands out from the crowd. The bonus game is certainly a joy, while the characters seen on the reels create a really amusing atmosphere while you're playing this game.